Hi-Tech Machinery
The lanyard product may look very simple, but actually it includes quite complicated technology. The whole process of production is automated and begins in the area of factory that manufactures and prints the material in a base color. It then moves to the other area of the factory that actually creates the lanyard from start to finish as we see it in shops and supermarkets.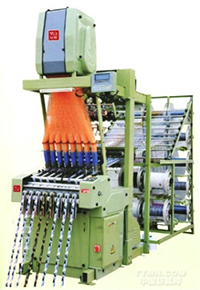 Next workers use intelligent machines to make colorful lanyards. Our machine are accessible to produce kinds of light and mid thick elastic and un-elastic narrow fabrics. Except that, our machine can be applicable produce 2-12 pieces collateral weaving, various thickness and width. Special size also can be made according to customer's requirement!
Our special sublimation printing machine can print on both sides at the same time, which is the leading part of the production line with CE certificate. The machine runs stably and efficiently with tri-location, accurate position and clear printing result. This method provides great quality at reasonable price. Nylon and cotton are the most preferred materials for that they are smoother and allow more details to be printed. While the more important thing is that the screen which printed the lanyard can be printed in more than two colors. Otherwise, our machine is provided with positioning system to guarantee lanyards not shifting around in printing process. Old machine needs several workers to operate, but our machine just needs one worker.